GUESS WHAT'S TRENDING ON GOOGLE?
Yes, you heard it right. Our Green MossAgate rings collection is trending on google right now. Green is inextricably linked to the natural world. Being the hue of spring and rebirth, it alsostands for development and rejuvenation. Wearing anything green, whether it bejewelry or clothing, can emit a specific energy. It can be a strong energy of expansionand the drive to grow, or it might be energy to get through a challenge. It mayignite a favorable energy for developing wholesome relationships.
A semi-precious gemstone made of silicon dioxide iscalled moss agate. It is a variety of chalcedony with green minerals includedwithin the rock. It is said that moss agate promotes serenity and emotionalequilibrium. Agate is renowned for its durability; thus, it can be a wonderfulfocal stone. As its name suggests, moss agate has a pattern like moss and isgreenish in color. Also known for it's healing and spiritual properties, greenmoss agate is a perfect choice for your engagement ring as it is verydistinctive as well as cost-effective.
Here are some of our best-selling Green Moss Agate rings which mightbe the next ring you would want to add in your cart right away:
Although diamonds are forever, Green Moss Agate is an ideal alternative for an engagement ring because of its mystifying allure. It is perfect for brides who want something particularly unique and one-of-a-kind because of the stone's ever-changing hue and rarity, which make it highly remarkable and more than just a fleeting trend. Beautifully crafted by our skilled artisans, this nature-inspired engagement ring has a 1 carat green moss agate in the center that is held in place by four claws and is surrounded by flowery art deco detailing on the rose gold band.
With this elegant yet significant three stone moss agate and diamond ring, embellish your love tale. With this triplet ring, you can consider the history, present, and future of your union. This set of wedding rings with a hexagon-shaped center green moss agate is inspired by nature and has a special, one-of-a-kind aspect to it. A matching wedding band with floral leaf and vine art elements is included with this bridal set.
This round-shaped moss agate engagement ring is a great choice if you're looking for a special engagement ring that seems one-of-a-kind but isn't overly pricey.
This green moss agate ring will amaze its user with its distinctive milky white hue and green dendritic inserts. This three-stone engagement ring for women will perfectly fit your unique love story.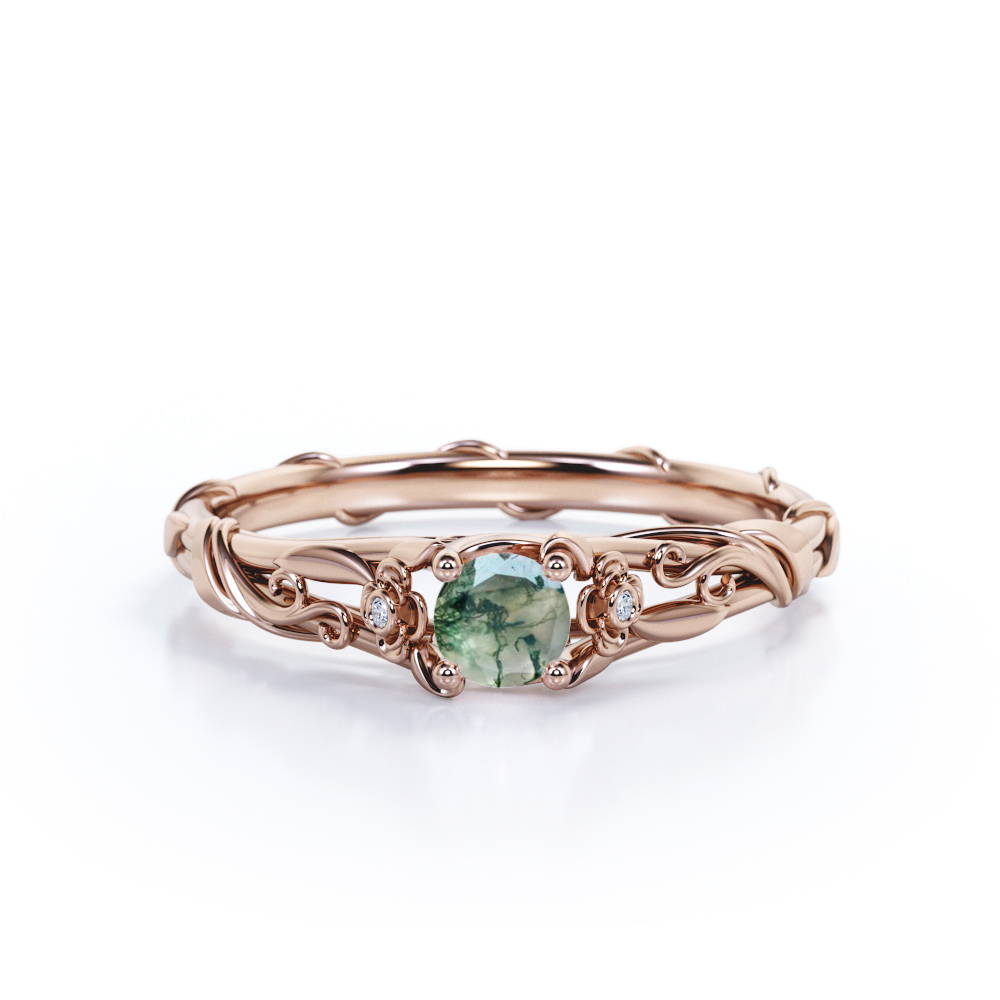 THREE STONE 0.8 CARAT OVAL MOSS AGATE WITH PEARL AND MOISSANITE ENGAGEMENT RING
Last but not the least, this distinctive piece is something you wouldn't want to miss out for sure. The combo of green moss agate and pearl is just extraordinary. An oval cut moss agate, a set of pearls and pave set diamonds makes this engagement ring one of a kind. Moreover, this exclusive piece also made it to the list of Moss agate engagement rings you can purchase by BRIDES, one of the reputed wedding publication in the United States. We Shygems, take this opportunity to thank Brides.com for recognizing us and for the mention in their article.