OCTOBER BIRTHSTONE: MAGICAL OPAL
October is a magical month where fall begins, and the weather is very pleasing. Opal is the traditional birthstone representing October. Opal, the birthstone for October, captures this colorful season with its own display of rainbow iridescence. Opals, popularly known as "The Queen of Gems," have a significant meaning. Opals are regarded as "phenomenal" gems because they frequently exhibit a pattern of colored flashes dispersed throughout the stone, or "play-of-color" effect. The flashes can be blue, green, orange, or red, and different stones may display none, some, or all of these hues simultaneously. Numerous advantageous traits have been associated with this gleaming October birthstone. People who wear opals are said to be protected against unidentified hazards. They are also reputed to serve as talismans, giving people courage and self-assurance. Opal also stands for hope, truth, and purity.
Jewelry made of opals is not only captivating, but it is also significantly less expensive than jewelry made of other materials. Displaying a few of our eye-catching Opal jewelry pieces:
This unconventional bridal ensemble is the stuff of fantasies. If you want to spend less money on beautiful jewelry while still getting the best alternative, this whimsical opal ring is a great choice. It is also beautiful to look at. Undoubtedly a bold choice that will be noticed, this opal infinity engagement ring. This halo engagement ring's twisted band, which is adorned with magnificent diamonds, will perfectly complement your look. Discover magically designed opal birthstone rings.
This ring's alluringblue-green color contrast speaks of romance and passion. This black opal ring,which is set in our stylish rose gold, will undoubtedly draw admiring glancesand accentuate any ensemble. Check out that beautiful aura flowing from thecenter of the opal in this
halo ring
,which also has a diamond accent. Wear a genuine black opal ring that is one ofa kind to stand out from the crowd and make an impression. Black opal's gloomybackground makes it possible for the play-of-color effect to be brilliant andmagnificent, and the best specimens of this category are simply breathtaking.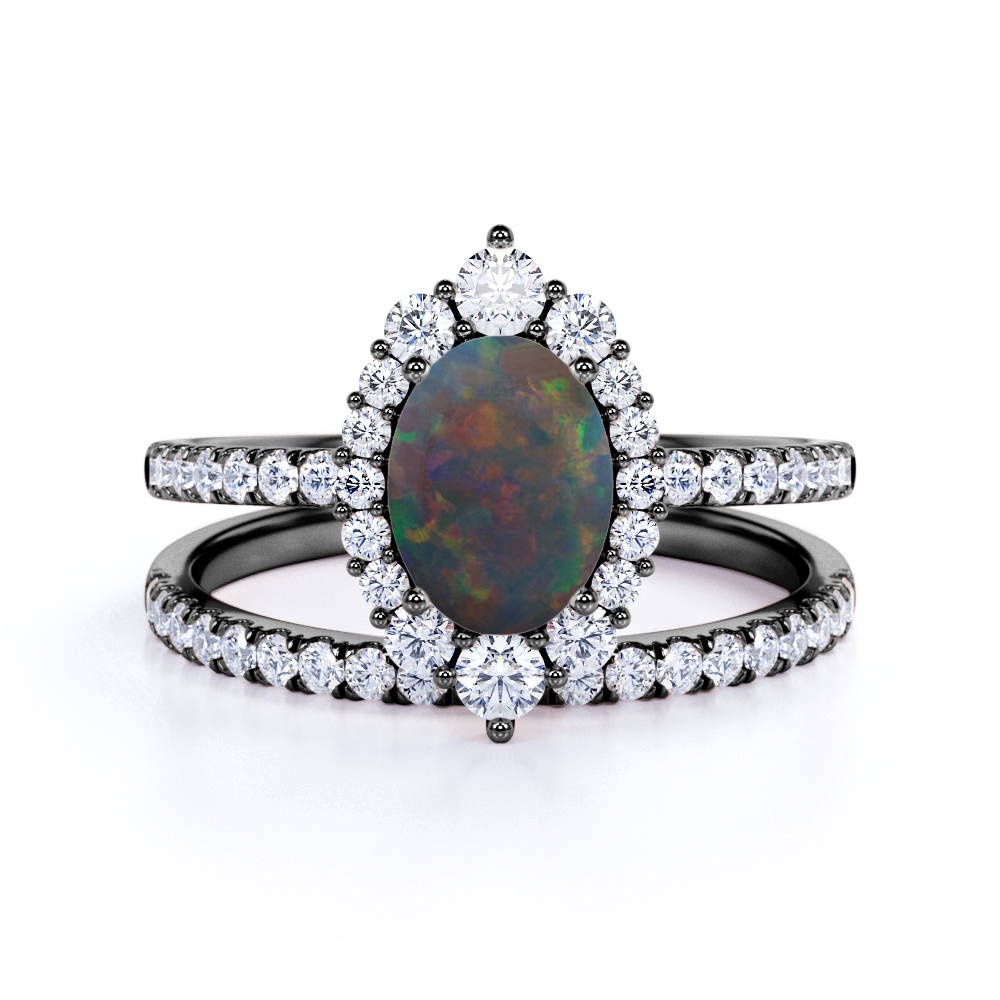 Our heart-shaped opal and diamond necklace will draw attention. If you want a necklace that won't overshadow your outfit, consider a solitaire natural white fire opal and diamond pendant. Three prongs support a vibrant 1 carat opal, and the top is set with three delicate round white diamonds that shine. In either casual or formal attire, you may wear it with simple earrings to make your necklace stand out. The ideal option if you wanted to treat yourself to a daily necessity is this elegant yet understated opal solitaire pendant. Discover the ideal opal birthstone necklace to wear as a keepsake.