OUR TOP FIVE BEST SELLING MOISSANITE RINGS
Moissanite is a gemstone that was created by the stars. Moissanite is named after Henri Moissan, a French scientist who was the first person to successfully detect silicon carbide in its crystalline form. This gemstone is known for its rainbow glitter. It has a prismatic light and a particular brilliance to it. Many people prefer moissanite because of its amazing and undeniable brilliance. It light return is higher than that of a diamond.
Moissanite is a strong and long-lasting gemstone. The best thing about moissanite is that its durability will result in a band that will endure a lifetime. The stone will not turn gloomy or lose its luster. It will shine as brilliantly as your love for your better half for years to come, and you will be able to pass it down to your family for generations. Moissanite is quite like diamonds, with a few important differences, one of which being pricing.
Our experienced artisans and skilled craftsmen take deep pleasure in creating rings that will compel her to say only yes.
Here are some of our most popular and best-selling ring designs for Moissanite: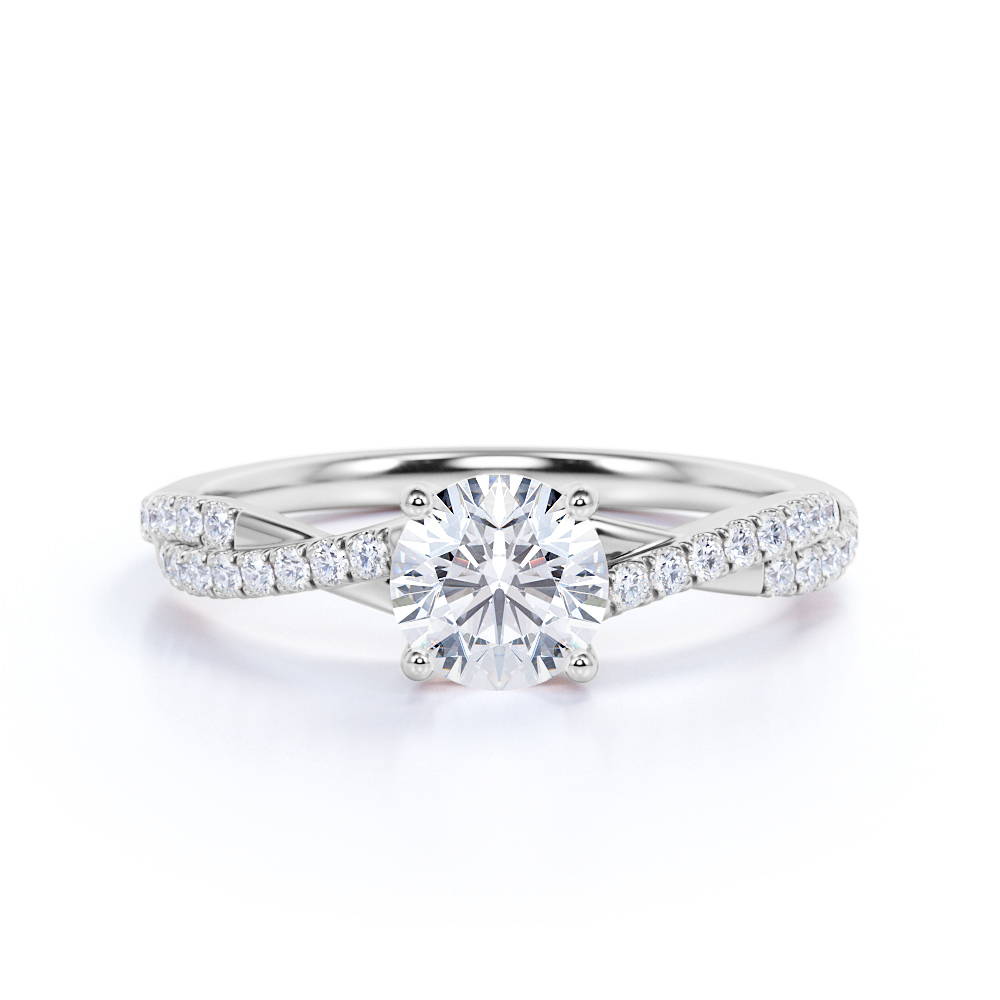 Select a piece that reflects you, that you want to wear to celebrate your love and pass down to someone special one day. This brilliant round cut moissanite ring will create a timeless look on your finger. This flawless engagement ring will be a perfect match for those who are looking for beautiful, classic, and unique pieces of fine jewelry. This infinity engagement ring is surely a bold choice that will certainly stand out. This moissanite engagement ring features a twisted band embeliished with shimmering moissanite which will complement your overall ensemble. Handmade with utmost love and devotion, this 1.25 carat round cut moissanite infinity engagement ring in white gold over silver can also be customized to 10k Gold or 14k Gold as per your preference. For a confirm yes from her, get this one of our best-seller engagement rings and share the bond for infinite years.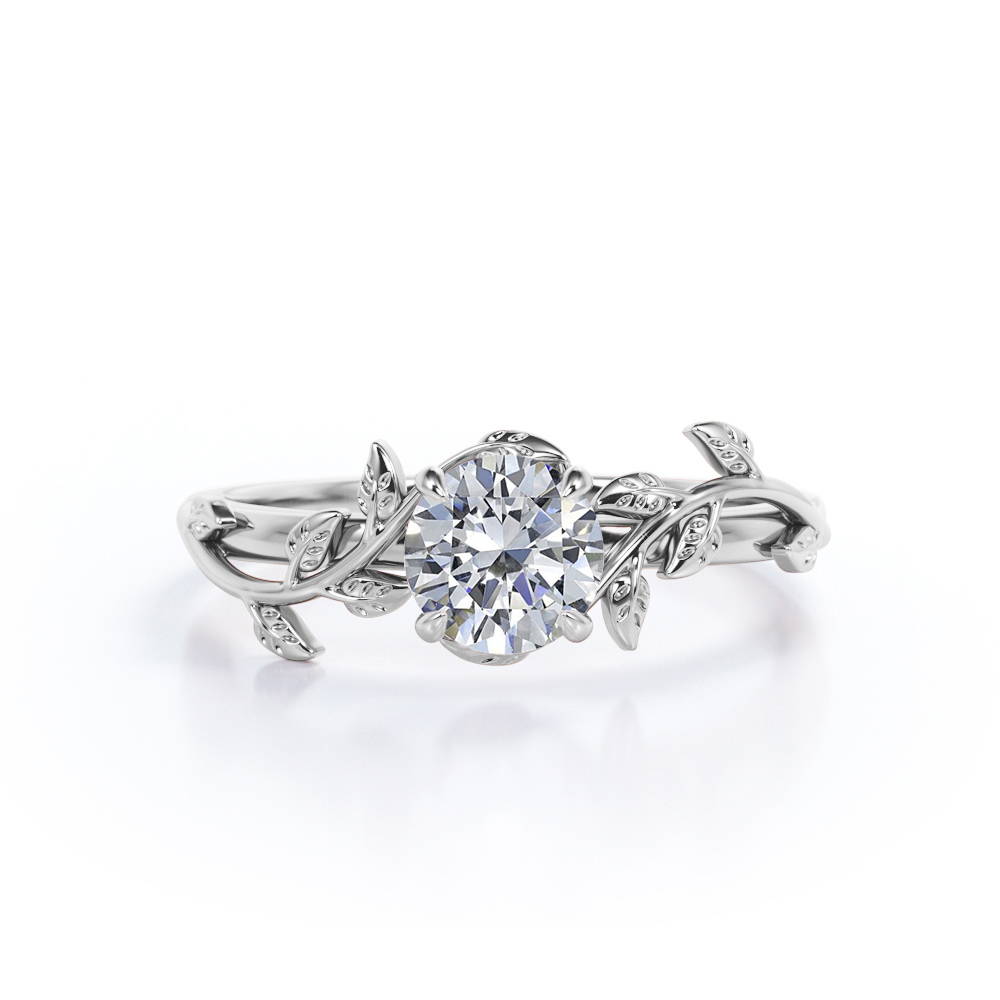 Diamonds might be forever, but few gemstones are as mysteriously compelling as moissanite, making it the perfect unique engagement ring option. The exceptional sheer brilliance of the stone makes it extremely special and more than just a passing trend, and it is ideal for the brides who want something especially one-of-a-kind. This nature-inspired engagement ring is exceptional handwork of our experienced craftsmen. This solitaire ring features 1 carat moissanite at the center held by four claws and is filled with floral art deco work in a white gold band. This floral solitaire 1 carat round cut moissanite nature inspired engagement ring in white gold for her can also be customized to 18k Gold plating over silver, 10k Gold or 14k Gold or as you prefer.
Subtle yet striking, this oval cut moissanite and diamond ring is impossibly romantic. This pave set ring comprises of 1 carat moissanite as the center stone and is surrounded by 0.50 carat of glistening white diamonds. This four-pronged engagement ring is set on a pave set band in white gold. Handmade with detailed attention and deep love, this affordable 1.50 carat oval cut moissanite and diamond four prong pave engagement ring in white gold can also be customized to 18k Gold plating over silver, 10k Gold or 14k Gold as per your choice.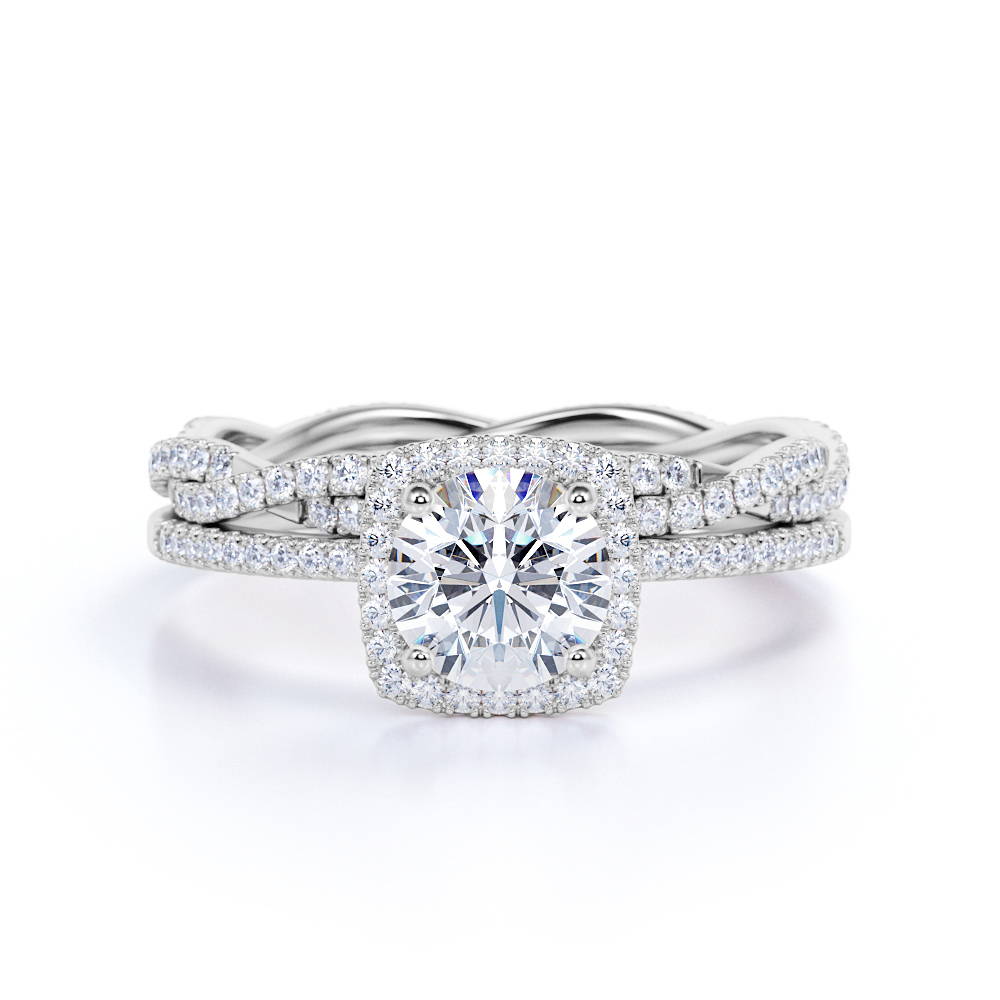 For the more unconventional bride, consider opting for moissanite instead of the traditional white diamond. The ring's iridescence is complemented by the sheen of this delicate white gold band. Moreover, the pave set infinity band just exudes vintage drama. This alluring wedding ring set comprises of one engagement ring which features 1 carat moissanite as the center stone and 0.50 carat of side white diamonds with a matching wedding band to complete your ensemble. Make your bond eternal and infinite by sealing her heart with our exquisite infinity bridal set. The infinity style band is a symbol of a timeless bond of love and affection that connects two people forever. So, won't you want to enter the new episode of your life with this infinity bridal set?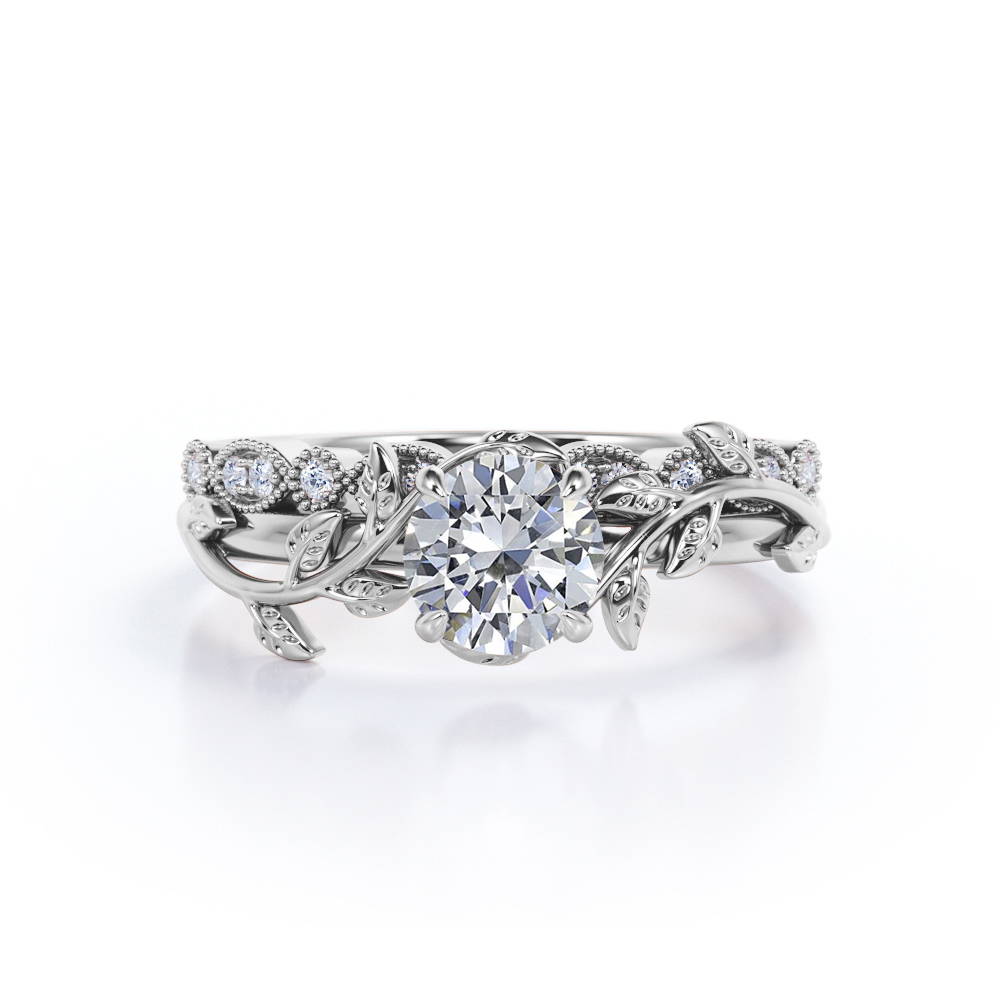 When you have found your perfect one, all that's left is finding that perfect ring which will hold all your beautiful memories alive on it for eternity. Showcasing our best-selling wedding ring set from our Moissanite rings collection which might be exactly that perfect ring you are looking for. This nature-inspired bridal set features an engagement ring with round cut moissanite at the center and a matching wedding band which is intricately carved and crafted into delicate leaf and vines that wrap elegantly around the fingers. The art deco band perfectly complements the floral engagement ring. This leaf art deco 1.25 carat round cut moissanite and diamond floral wedding ring set in white gold can also be customized to 18k Gold plating over silver, 10k Gold or 14k Gold as per your choice.
So, which one among the above five eye-pleasing designs will you choose for yourself or your partner?